Clyde x Hackney
2 year old Bay Gelding
15.2+ hh
D.O.B. July 1, 2014

Free jumping video below
Hansen is adorable! A roman nose has never looked so beautiful. To look at his wonderful expression and into those blue eyes that suit him so well, you canít help but want to give him attention. And he soaks it up happily now that he knows we arenít going to hurt him.
He was a clever fellow in the free jumping and heís been a gem to start under saddle. He has a smooth canter and heís going to finish big after he gets through his awkward teens. This is a nice horse and you canít help but love everything about him! This one is out of the same dam as Quazar (2006 Sale) who is a very successful show jumper.
Sire: Shady Maple's Finegan (Hackney)
Dam: Shady Maple Lady Hope (Clyde Mare)
All horses will be available for previewing and trying by appointment between Sunday May 22nd and Wednesday May 25th. Phone Barb Bowen at (905) 659-1704 or email Jodie Bowen at obps@execulink.com to schedule your appointment.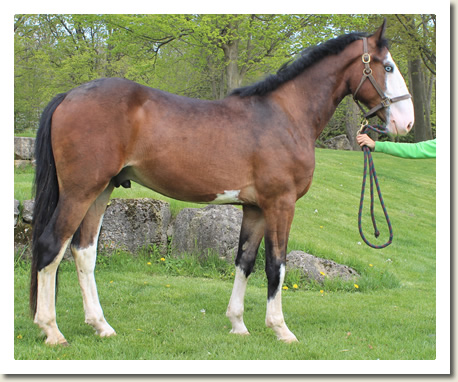 Breeder: Shady Maple Farms
Join us for some refreshments and fun at our Friday evening gala. The breeders will take this opportunity to showcase their horses and give demonstrations of these remarkable athletes. Friday May 27th at 6:00pm here at Orchard Park Stables. Get Directions here.

We hope to see you there!