Thoroughbred x Clyde x Hackney
3 year old Chestnut Mare
16.2 hh
D.O.B. May 18, 2012
This fine mare comes with an easy button! She is simple to ride and suitable for almost anyone. She has a comfortable way of going, and is happy to do whatever is asked of her. Rosella has the potential to excel in whatever discipline she will be chosen for. Not only is she a star athlete, but she has the beauty and the brains that go with it. Not too many packages come fully assembled and ready to go like this one! Rosella should not be overlooked!
Sire: Key Exec (TB) AKA Tuffy
Dam: Shady Maple Cinamon (Crossbred Mare)
All horses will be available for previewing and trying by appointment between Friday May 22nd and Wednesday May 27th. Phone Barb Bowen at (905) 659-1704 or email Jodie Bowen at obps@execulink.com to schedule your appointment.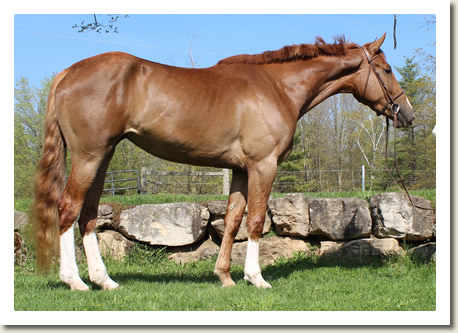 Breeder: Shady Maple Farms
Join us for some refreshments and fun at our Friday evening gala. The breeders will take this opportunity to showcase their horses and give demonstrations of these remarkable athletes. Friday May 29th at 6:30pm here at Orchard Park Stables. Get Directions here.

We hope to see you there!