Clyde x Hackney
4 year old Bay Mare
16.1+ hh
D.O.B. August 1, 2011
Jessie is easy to work with, being a total sweetheart on the ground as well as in harness or under saddle! Although she has driven longer than she has ridden, you can rest assure your rides will be safe and solid. She won't let you down with her great temperament, being the kind of horse you can do anything with.
Jessie has an incredible trot and a solid canter that will take her the distance easily in any discipline! This fine lady will suit most riders being as quiet as she is. Take a good look!
Sire: SMF Nevada (Hackney Stallion)
Dam SMF Clyde Mare
All horses will be available for previewing and trying by appointment between Friday May 22nd and Wednesday May 27th. Phone Barb Bowen at (905) 659-1704 or email Jodie Bowen at obps@execulink.com to schedule your appointment.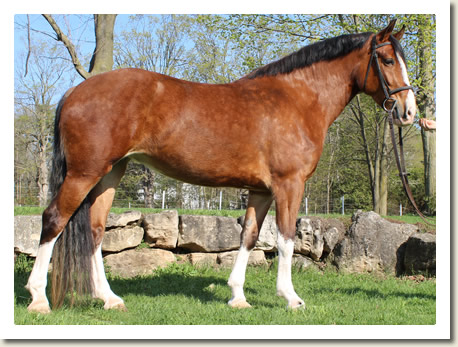 Breeder: Shady Maple Farms
Join us for some refreshments and fun at our Friday evening gala. The breeders will take this opportunity to showcase their horses and give demonstrations of these remarkable athletes. Friday May 29th at 6:30pm here at Orchard Park Stables. Get Directions here.

We hope to see you there!