Thoroughbred x Clyde
7 year old Grey Mare
15.1 hh
D.O.B. May 18, 2008
Pippin is another barn favorite! We have so many of those!!! She is small but mighty, bold and brave, as talented as they come and safe on trails, hacking well with and without company. She is fun to ride, being suitable for most riders and wants to please. Pippin loved her free jumping debut eating up the distances with ease and showing all of us just how much talent lies within. She will do well in whatever discipline she faces, and she'll put a smile on your face each time out. A must see!
Sire: Blazer (Crossbred Stallion - 2010 sale)
Dam: OPS Jane (TB)
All horses will be available for previewing and trying by appointment between Friday May 22nd and Wednesday May 27th. Phone Barb Bowen at (905) 659-1704 or email Jodie Bowen at obps@execulink.com to schedule your appointment.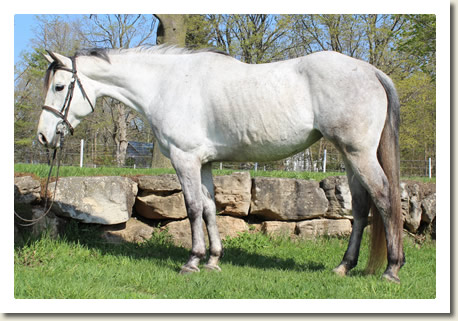 Breeder: Orchard Park Stables
Join us for some refreshments and fun at our Friday evening gala. The breeders will take this opportunity to showcase their horses and give demonstrations of these remarkable athletes. Friday May 29th at 6:30pm here at Orchard Park Stables. Get Directions here.

We hope to see you there!