Warmblood x Thoroughbred
12 year old Grey Mare
16.0 hh
D.O.B. TBA
Used at Orchard Park Stables as a broodmare and now being offered for sale. A very nice mare!!! Millie is wonderful to ride, being laid back and simple. She is quiet enough for someone to have as their first show horse … and what a competitor she will be!
She will win flat classes and canters around like a superstar hunter! Auto changes, comfortable gaits and point and go is what she's all about! However, if someone wants a solid jumper, eventer or dressage horse, don't rule Millie out as she has the ability to do well in all of those disciplines. She's got her sire's charisma in every step. Not only that, but Millie is an absolute sweet mare to work with in the barn.
She is truly happy all of the time and loves attention. She also clips while in crossties, stands for hours to be groomed and bathed and is just a real treat to have in the barn. We will miss her, but she deserves to be someone's special horse.
Sire: Popeye K (KWPN Approved Stallion)
Dam: Thoroughbred Mare
All horses will be available for previewing and trying by appointment between Friday May 22nd and Wednesday May 27th. Phone Barb Bowen at (905) 659-1704 or email Jodie Bowen at obps@execulink.com to schedule your appointment.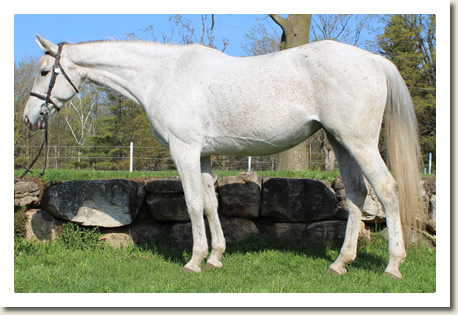 Breeder: Orchard Park Stables
Join us for some refreshments and fun at our Friday evening gala. The breeders will take this opportunity to showcase their horses and give demonstrations of these remarkable athletes. Friday May 29th at 6:30pm here at Orchard Park Stables. Get Directions here.

We hope to see you there!