Clyde x Hackney
3 year old Bay Gelding
16.3 hh
D.O.B. May 24, 2012
An awesome, handsome, big gelding! Anyone wanting big and easy with good looks topping it off, Tommy is the horse for you. Tommy is steadfast and reliable to mention just a few of the many great qualities that he carries with him. With his big step, we were surprised at how well he figured out the striding in the free jumping and made it work. He is cozy to ride and extremely quiet! Anyone wanting a big Teddy bear as their equine partner should take a look at this guy.
Sire: SMF Gambler (Hackney Stallion)
Dam: SMF Clyde Mare
All horses will be available for previewing and trying by appointment between Friday May 22nd and Wednesday May 27th. Phone Barb Bowen at (905) 659-1704 or email Jodie Bowen at obps@execulink.com to schedule your appointment.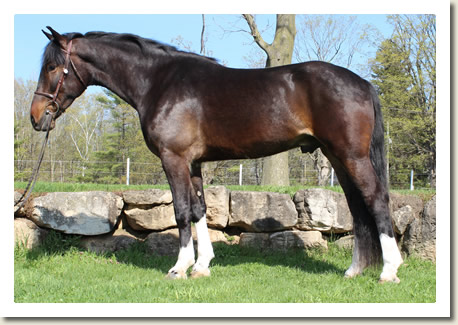 Breeder: Shady Maple Farms
Join us for some refreshments and fun at our Friday evening gala. The breeders will take this opportunity to showcase their horses and give demonstrations of these remarkable athletes. Friday May 29th at 6:30pm here at Orchard Park Stables. Get Directions here.

We hope to see you there!