Thoroughbred x Clyde x Hackney
3 year old Chestnut Gelding
15.3 hh
D.O.B. June 25, 2012
This gorgeous guy is as good as he looks! He's a barn favorite with his larger than life personality and that will follow him wherever he goes. Red has a great temperament making him easy going and laid back. He is quiet to ride, giving you the illusion of being way ahead of his time. You forget that he is so young and had very little riding considering how he works under saddle. Donít miss out on this one!
Sire: Key Exec (TB) AKA Tuffy
Dam: Shady Maple Susan (Crossbred Mare)
All horses will be available for previewing and trying by appointment between Friday May 22nd and Wednesday May 27th. Phone Barb Bowen at (905) 659-1704 or email Jodie Bowen at obps@execulink.com to schedule your appointment.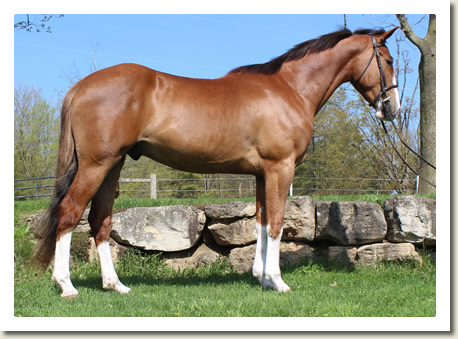 Breeder: Shady Maple Farms
Join us for some refreshments and fun at our Friday evening gala. The breeders will take this opportunity to showcase their horses and give demonstrations of these remarkable athletes. Friday May 29th at 6:30pm here at Orchard Park Stables. Get Directions here.

We hope to see you there!