Warmblood x Thoroughbred
5 year old Grey Mare
14.2 hh
D.O.B. July 14, 2011

Free jumping video below
At present Olive is measuring a large pony. 14.2 hands right on the dot! We think she is done growing and if this is the case, Olive is one fancy pony! She has been started under saddle recently and is going very well. She will need someone to continue her training and keep her in a program.
Her temperament is wonderful, she loves people and attention. Her dam is a Popeye K and her sire is a Northern Dancer TB. She has everything going for her. She's a decent mover and a fancy jumper. There is no reason why this mare can't be a top performer. A must see!
Sire: Eddie (TB Stallion)
Dam: Millie (2015 Sale)
All horses will be available for previewing and trying by appointment between Sunday May 22nd and Wednesday May 25th. Phone Barb Bowen at (905) 659-1704 or email Jodie Bowen at obps@execulink.com to schedule your appointment.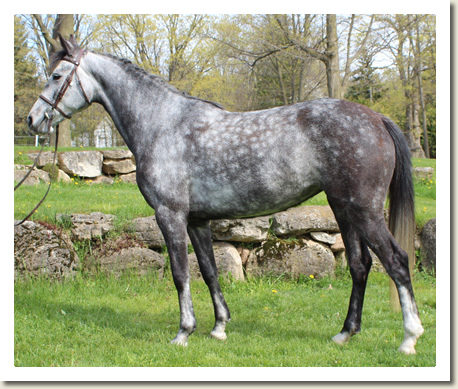 Breeder: Orchard Park Stables
Join us for some refreshments and fun at our Friday evening gala. The breeders will take this opportunity to showcase their horses and give demonstrations of these remarkable athletes. Friday May 27th at 6:00pm here at Orchard Park Stables. Get Directions here.

We hope to see you there!