Thoroughbred X Clyde X Hackney
7 year old Bay Mare
16.1 hh
DOB: May 10, 2009

Free jumping video below
Looking for something you can compete with tomorrow? Don't miss out on Chelsey! She has it all! She is gorgeous, athletic and loves to jump. Currently jumping 3ft courses. Has shown Eventing and is always in the ribbons. Would also do well in low level jumpers. Very honest, straight forward and safe over fences. Runs through water.
Chelsey is bare foot, easy to handle. Stands great in the cross ties. good for farrier and vet. Used to dogs, motorized vehicles, baby strollers and vehicles on the road. Trailers like a dream, by self or with others. Enjoys hacking, but we don't have any trails near our farm so mostly road hacks. She spends summers on full turn out.
She has a few bumps on her back that have been biopsied. They came back as bug bites that are inflamed but haven't been responsive to steroid treatments. They do not affect Chelsey's ability to be ridden or her temperament. A relief hole has been cut into saddle pad per vet instruction to reduce any friction. A report from Guelph is available.
Sire: Blazer (Crossbred Stallion - 2010 sale)
Dam: OPS Chicklet (Crossbred Mare - 2005 Sale)
All horses will be available for previewing and trying by appointment between Sunday May 22nd and Wednesday May 25th. Phone Barb Bowen at (905) 659-1704 or email Jodie Bowen at obps@execulink.com to schedule your appointment.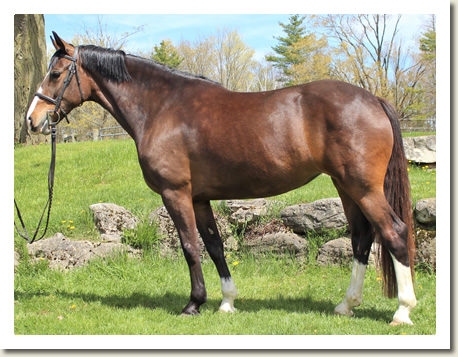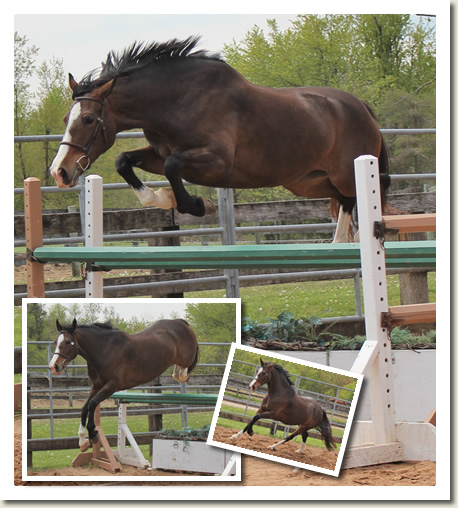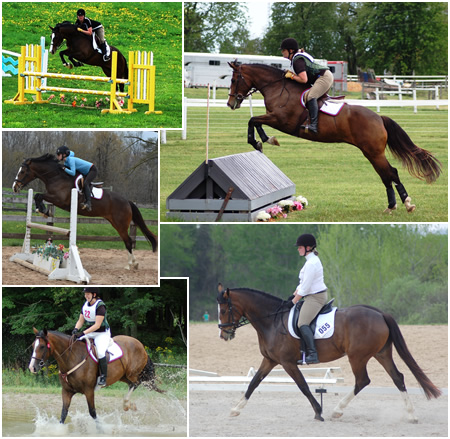 Breeder: Hawksview Farm, Affiliate of Orchard Park Stables
Join us for some refreshments and fun at our Friday evening gala. The breeders will take this opportunity to showcase their horses and give demonstrations of these remarkable athletes. Friday May 27th at 6:00pm here at Orchard Park Stables. Get Directions here.

We hope to see you there!