Clyde x Hackney
5 year old Bay Gelding
16.1+ hh
D.O.B. May 24, 2010
Best! Horse! Ever! That is what you will get when you ask anyone at our barn! All you have to do is look at that adorable face and those kind eyes to fall in love with this guy! And then you work with him and the love goes deeper. He has more experience in harness, with limited riding, but he is just so darn easy.
Even being green broke under saddle, James as we call him, is so very quiet and safe, that we would recommend him to anyone. You can certainly count on him for whatever you desire as he is the whole package with tons of ability to top it off. You can count on this fine horse!!!
Sire: SMF Gambler (Hackney Stallion)
Dam: SMF Clyde Mare
All horses will be available for previewing and trying by appointment between Friday May 22nd and Wednesday May 27th. Phone Barb Bowen at (905) 659-1704 or email Jodie Bowen at obps@execulink.com to schedule your appointment.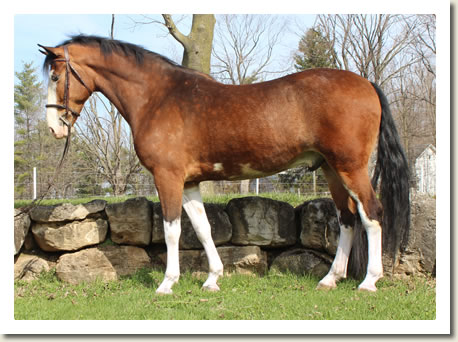 Breeder: Shady Maple Farms
Join us for some refreshments and fun at our Friday evening gala. The breeders will take this opportunity to showcase their horses and give demonstrations of these remarkable athletes. Friday May 29th at 6:30pm here at Orchard Park Stables. Get Directions here.

We hope to see you there!