Clyde x Hackney
6 year old Black Gelding
16.2 hh
D.O.B. April 1, 2009
This big easy going fellow is not only bold and brave under saddle, but gives his rider a safe and solid feel while being smooth and fun to ride. He has a kind personality which adds to the charming picture perfect package he presents each and every time out! He has great movement for dressage but would excel as an eventer, a jumper or in the hunt field. Diamond is just plain lovely! We should also mention that this "jack of all trades" also drives!!!
Sire: SMF Gambler (Hackney Stallion)
Dam: SMF Clyde Mare
All horses will be available for previewing and trying by appointment between Friday May 22nd and Wednesday May 27th. Phone Barb Bowen at (905) 659-1704 or email Jodie Bowen at obps@execulink.com to schedule your appointment.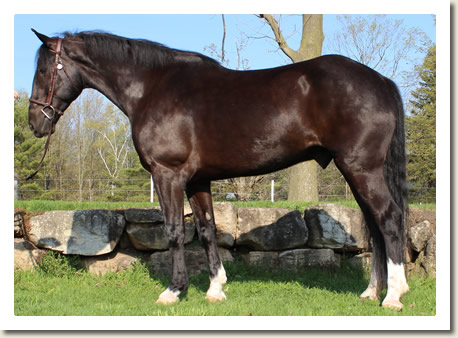 Breeder: Shady Maple Farms
Join us for some refreshments and fun at our Friday evening gala. The breeders will take this opportunity to showcase their horses and give demonstrations of these remarkable athletes. Friday May 29th at 6:30pm here at Orchard Park Stables. Get Directions here.

We hope to see you there!