Conamara x Sport Pony
5 year old Strawberry Roan Gelding
13.2 hh
D.O.B.

This bright and cheery pony is so much fun to have around; we are going to miss him when he goes! With that said, we are excited to see him flourish in his new home where he will definitely be a barn favorite with his absolutely cute and kind personality!
He has so much to offer being the perfect sized medium pony with an adorable jump and a great work ethic, not to mention his unique look. Topper has been a dream to start under saddle and has a smooth wonderful canter that any child can sit to. A real gem!
Sire: Private Eye (OPS Sport Pony)
Dam: Spot Me (2010 Sale)
All horses will be available for previewing and trying by appointment between Friday May 23rd and Wednesday May 28th. Phone Barb Bowen at (905) 659-1704 or email Jodie Bowen at obps@execulink.com to schedule your appointment.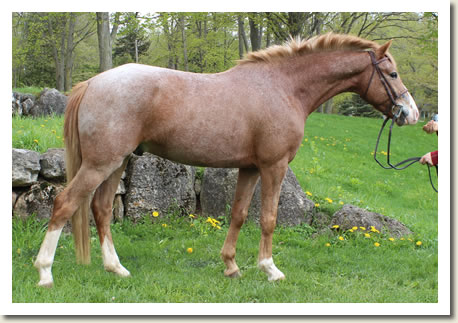 Breeder: Orchard Park Stables
Join us for some refreshments and fun at our Friday evening gala. The breeders will take this opportunity to showcase their horses and give demonstrations of these remarkable athletes. Friday May 30th at 6:30pm here at Orchard Park Stables. Get Directions here.

We hope to see you there!