THE STORY OF PRIVATE EYE, American Sport Pony
All pictures taken of Private Eye are courtesy of Shoot Photography.
Spec as we call him, was born on August 6, 2000. He is "out of Kitchener by Trailer"… literally.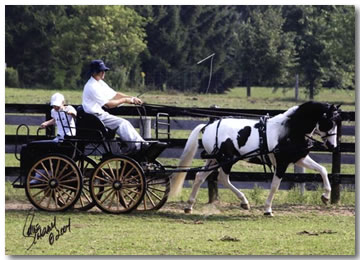 We purchased a 12.1 hand American Shetland Pinto mare at Kitchener Stockyards that was just too pretty to stay where she was. She was wild, and at two years old, on a cold January day, her life took a turn for the better when we trailered her home.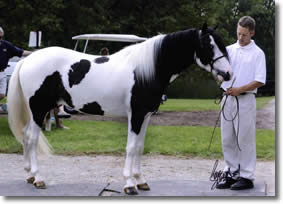 Fast forward to August … "Princess" was living in a tie up stall with daily turnout and quite enjoying her new life. On the return of a ride out west, Callie, the youngest of us came into the barn saying we were going to have another baby! We all looked and when she pointed at Princess, we were shocked to realize that Callie was indeed correct. Even as experienced breeders, we just thought Princess was pleasantly plump!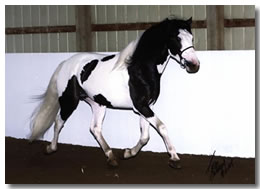 Well, we built a large pen for her knowing that she obviously couldn't stay in a tie up stall any longer. That very night she foaled and what a magnificent colt we had! We called him Spec … short for "Unexpected". Spec quickly became our barn mascot and the recipient of everyone's affection.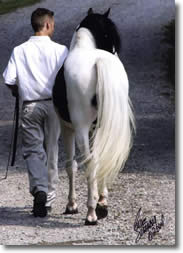 Although his sire is unknown, he must be very special considering Spec is so exceptional. He excels at everything he does, has a work ethic like no other and his personality is truly unique.
Spec was inspected and approved as an American Sport Pony in July of 2004.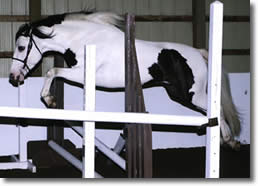 Spec rides and drives equally well, free jumps 3 feet with ease, and on turnout is the Circus showoff. Turning five years old this August, Spec stands 13.2 hands, will drive competitively and start his breeding career this spring.
Visitors are welcome!