Thoroughbred x Clyde
4 year old Brown Mare
16.2 hh
D.O.B. June 8, 2010

Please note that we have had to pull Top Girl from the sale due to a muscle soreness. It is a temporary issue and Top Girl will be offered for sale after some time off. We have a vet's note and we gaurantee our horses, so if anyone is interested in talking to us about Top Girl please contact us! We are sorry for any inconvenience this may have caused.
Top Girl is the dream horse for some lucky person! She is the whole package … brains, beauty, ability! And those are only a few of the many great traits that this fine mare brings to the table. She truly represents what we breed and raise. If only we had a dozen Top Girls at all times; no one would have to shop anywhere else. She is quiet and although she has just been started under saddle recently, you would never know it as anyone can ride her. Amazing!!!
A full sister to Mazy (Present sale), Keyra (2012 sale), Hershey (2010 sale) and Nash (2009 sale).
Sire: Key Exec (TB) AKA Tuffy
Dam: Shady Maple Samantha (Clyde mare)
All horses will be available for previewing and trying by appointment between Friday May 23rd and Wednesday May 28th. Phone Barb Bowen at (905) 659-1704 or email Jodie Bowen at obps@execulink.com to schedule your appointment.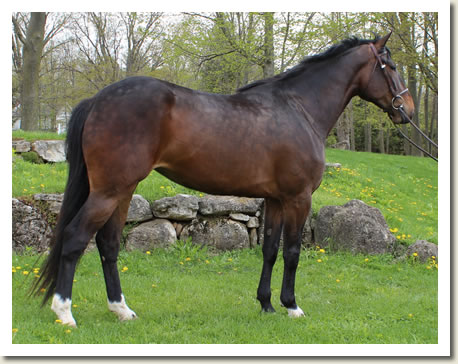 Breeder: Shady Maple Farms
Join us for some refreshments and fun at our Friday evening gala. The breeders will take this opportunity to showcase their horses and give demonstrations of these remarkable athletes. Friday May 30th at 6:30pm here at Orchard Park Stables. Get Directions here.

We hope to see you there!