Thoroughbred x Clyde
3 year old Black Mare
16.1+ hh
D.O.B. May 25, 2011

Mazy truly represents what we are. Here she is only on her 4th ride and going around the arena like a superstar ... no spook, no muss, no fuss! Happy to work and ready to please! We LOVE her! Now Ö closer to the sale and more rides under her belt, she continues to make us so proud being uncommonly quiet with everything we throw at her.
She is just amazing Ö that itís hard to explain how wonderful she is without you seeing it for yourself. An old soul for sure Ö she is the type that will take care of her rider. On top of all of these wonderful temperament traits, she also has athletic ability and beauty on her side! Donít miss out on this one!!!
A full sister to Top Girl (Present sale), Keyra (2013 sale), Hershey (2010 sale) and Nash (2009 sale).
Sire: Key Exec (TB) AKA Tuffy
Dam: Shady Maple Samantha (Clyde mare)
All horses will be available for previewing and trying by appointment between Friday May 23rd and Wednesday May 28th. Phone Barb Bowen at (905) 659-1704 or email Jodie Bowen at obps@execulink.com to schedule your appointment.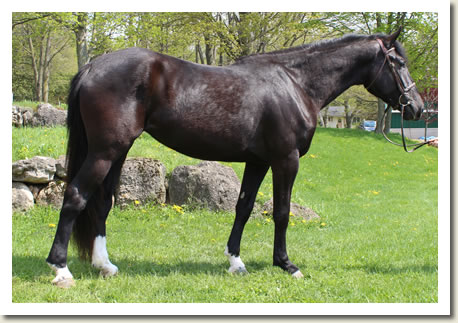 Breeder: Shady Maple Farms
Join us for some refreshments and fun at our Friday evening gala. The breeders will take this opportunity to showcase their horses and give demonstrations of these remarkable athletes. Friday May 30th at 6:30pm here at Orchard Park Stables. Get Directions here.

We hope to see you there!