Irish Sport Horse
9 year old Brown Mare
15.3 hh
D.O.B. June 26, 2005

Sasha has been competing in the eventing world for the past few years and made her mark! She is reliable representing her Irish roots well. You can count on Sasha to impress and deliver time after time with great personality and willingness … a constant smile is what you should expect to wear if you choose to own this lovely lady!
Anyone can ride her and her way of going is extremely smooth. She would suit a beginner wanting to grow or a higher level rider that wants to compete! During the Irish inspections, she was the inspector's favorite mare! We LOVE her.
Sire: Garryowen of Suma (RID)
Dam: OPS Ferra (Crossbred mare)
All horses will be available for previewing and trying by appointment between Friday May 23rd and Wednesday May 28th. Phone Barb Bowen at (905) 659-1704 or email Jodie Bowen at obps@execulink.com to schedule your appointment.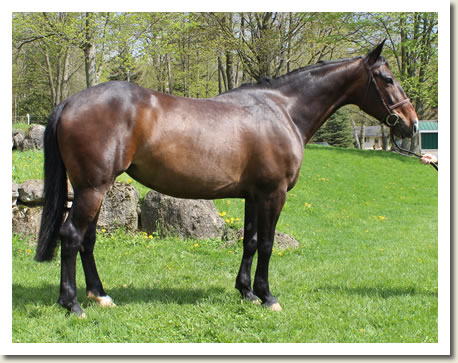 Breeder: Orchard Park Stables
Join us for some refreshments and fun at our Friday evening gala. The breeders will take this opportunity to showcase their horses and give demonstrations of these remarkable athletes. Friday May 30th at 6:30pm here at Orchard Park Stables. Get Directions here.

We hope to see you there!