Irish Sport Horse
8 year old Chestnut Mare
16.1+ hh
D.O.B.

We are offering this wonderful mare for sale that is one of the last that we own by Garryowen of Suma. Our intentions were to keep her to breed a couple of times before she moved into her new career, and she was briefly started under saddle as a three year old. Unfortunately Cashew has been on the back burner now for too long, and we have decided that she would be happier with a loving owner to start her new life.
Cashew is a fantastic mover and a solid full grown mare that will follow in all of her siblingís footprints. All three full siblings are competing and excelling in the hunter and jumper rings. Tigger (2005 sale) is currently showing hunter and if being offered for sale as her owner is retiring and wants to travel. Nancy (2007 sale) is showing in the jumper ring and turning heads! Faith, another full sister has been competing successfully in the jumper also!
There is no reason why Cashew wonít go far as a jumper or an eventer! She has the movement to be competitive as a dressage horse as well. We are offering to add another 30 days of training at no cost to her buyer due to the fact that we havenít done very much with her to date. She is well worth a look!
Sire: Garryowen of Suma (RID)
Dam: OPS Bonnie (Crossbred mare)
All horses will be available for previewing and trying by appointment between Friday May 23rd and Wednesday May 28th. Phone Barb Bowen at (905) 659-1704 or email Jodie Bowen at obps@execulink.com to schedule your appointment.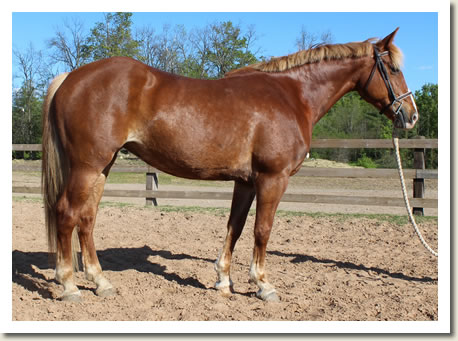 Breeder: Orchard Park Stables
Join us for some refreshments and fun at our Friday evening gala. The breeders will take this opportunity to showcase their horses and give demonstrations of these remarkable athletes. Friday May 30th at 6:30pm here at Orchard Park Stables. Get Directions here.

We hope to see you there!