Thoroughbred x Clyde
5 year old Bay Mare
Size 16.2 hh
D.O.B. May 9, 2008
This wonderful mare has star power with her many great qualities! She is gorgeous in mind and body, has a great personality, the ability to do whatever you want with ease, the work ethic and heart to get the job done, all with a simple way of going. She is a people pleaser and she's fun to ride! What more could you want in a mount. She's going to make someone their dream equine partner!
Nessy is the first daughter of Pride (2009 sale), sired by Lover's Cross. Her half-brother, Elliot (2007 sale), is competing successfully in the London area at present! Also a full sister to Cruz in this year's sale as well as Chicago (2011 sale).
Sire: Lover's Cross (TB)
Dam: OPS Pride (Crossbred mare - 2009 Sale)
Viewing Prior to Sale: Orchard Park Stables,
Barb Bowen (905) 659-1704 or e-mail
Jodie Bowen at obps@execulink.com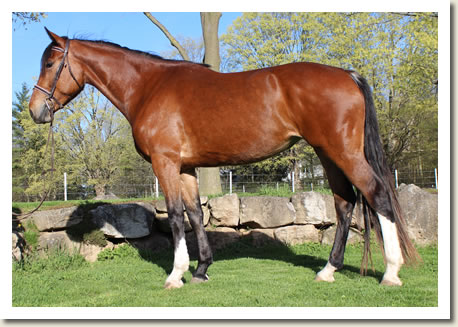 Breeder: Orchard Park Stables