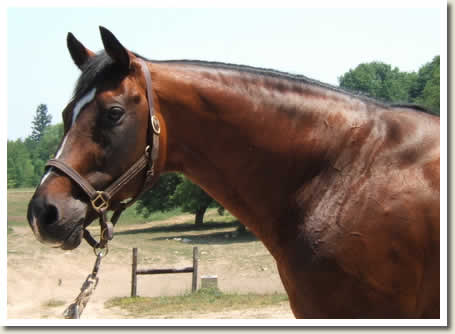 LOVER'S CROSS is a 16.2H, dark bay thoroughbred stallion, born in 1983. He is by EXPLODENT by NEARCTIC out of GIRL IN LOVE by LUCKY DEBONAIR, who is a grandson of COUNT FLEET. His sire, EXPLODENT is known for passing on wonderful temperaments and jumping talent.
LOVER'S CROSS was purchased as a 2 yr old in training at the Keeneland Sales for the sum of $200,000.00. Under trainer Roger Attfield, he went on to win major Stakes Races in Canada and the USA with total earnings of $329,116. He was then retired to stud as an unblemished 6 year old.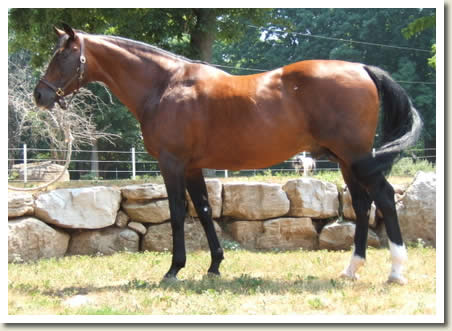 In 1995, at the age of 12, LOVER'S CROSS came to CANAJUN BREEDERS who decided to stand him primarily as a Sporthorse sire, although thoroughbreds and racing quarter horses are also welcome.
In 1996, LOVER'S CROSS was approved for breeding with the Canadian Sporthorse Assoc. and assigned SILVER PREMIUM STATUS based on his racing career.
In 1998, Lover was approved with the Canadian Warmblood Horse Breeders Assoc. The guest inspector, Dr Gerd Lehman from the Warendorf Stud in Germany said that Lover is the exact type of thoroughbred they want in their European Studbook. Lover scored 8's for Breed and Sex Type, Correctness of Gaits, as well as Jumping & Gallop. He scored 9 for his General Impression and Development.
In 2000 LOVER'S CROSS was Reserve Grand Champion Thoroughbred at the Royal Agricultural Winter Fair. He has the qualities you look for in a sire: athletic, willing, easy to manage and beautiful. All his handlers adore him. He is the kind of stallion you wish all were like. He is quick to learn and wants to please, traits we also see in his offspring.
LOVER'S CROSS OFFSPRING: Back to top of page
Maiden Voyage, a 5 yr old mare by Lover's Cross, out of Thumbelina a
Trakehner cross mare, qualified for a spot in the Jumper Development Series Finals at the RAWF in Toronto. She was the 4th Best Canadian Sport Horse in the 5 Yr Old Divisions.
Lily Marlene born in 2001, by Lover's Cross out of Diva Vaquero a (CSHA & AQHA mare.) As a foal, Lily Marlene won the McCallum Trophy Foal Futurity. She was CSHA High Point Grand Champion Overall as a Yearling in 2002; In 2003 she was CSHA Champion Two year old Overall as well as 2 yr old Champion at the Canadian Sport Horse Futurity; In 2004 she was CSHA Champion 3 yr old Under Saddle and Overall Champion 3 year old with the CSHA plus she won the McCallum Cup (Champion) at the CSHA Futurity. Details of her showing career can be seen on her website here. She is owned by Glenn and Lesley Sibbitt.
In 2001, Unforgettable was Champion of the Ontario Chapter Canadian Warmblood Foal Futurity, he is by Lover out of the Dutch mare, Lelani. The following year, Loverís Legacy also by Lover's Cross won the Ontario Foal Futurity. And that same year in Alberta, Jump For Joy by Lover's Cross won their CW Foal Futurity.
Two Fannies, a 2 yr old filly by Lover out of the CSH mare Keela won her weanling class at the 1999 RAWF in Toronto and in 2000 she was Reserve Junior Champion at the CSHA Ontario Breeders Show.
Alasslass is a beautiful thoroughbred mare by Lover's Cross who won several races before being purchased as a broodmare prospect. Her laid back easy going nature is typical of Lover's offspring.
Lover's Cross has been bred to many other types of mares over the past 6 years such as Welsh ponies, Appaloosas and draught. They all seem to possess his great temperament and lovely athletic movement.
LOVER'S CROSS is approved for Breeding with the JC, CWHBA, CSHA, and AQHA He is nominated for the Ontario Sireís Stakes in 2004. Visitors are welcome to visit LOVER at Orchard Park Stables anytime. Please call or email us for an appointment.
Lover's Cross (THOROUGHBRED)
(CAN) dkb/br. H, 1983
SIRE'S SIDE
.........................................................................................
PHAROS (GB)
b. 1920 [I]
NEARCO (ITY)
br. 1935 [BC]
NOGARA (ITY)*
b. 1928
NEARCTIC (CAN)
br. 1954
HYPERION (GB)
ch. 1930 [BC]
LADY ANGELA (IRE)
ch. 1944
Sire:
SISTER SARAH (GB)*
br. 1930
EXPLODENT
(USA) b. 1969
HASH (USA)
b. 1936
MEL HASH (USA)
b. 1945
CORDICAY (USA)
ch. 1938
VENOMOUS (USA)
b. 1953
HEATHER BROOM (USA)
ch. 1936
SPITEFUL SUE (USA)
ch. 1944
SAUCY SUE (USA)
br. 1925
DAM'S SIDE
.........................................................................................
THE RHYMER (USA)
ch. 1938
VERTEX (USA)
ch. 1954
KANACE (USA)
gr. 1945
LUCKY DEBONAIR (USA)
b. 1962
COUNT FLEET (USA)
br. 1940 [C]
FRESH AS FRESH (USA)
b. 1957
Dam:
AIRY (USA)
b. 1945
GIRL IN LOVE
ch. 1973
ARMAGEDDON (USA)
b. 1949
BATTLE JOINED (USA)
b. 1959
ETHEL WALKER (USA)
b. 1953
LOVERS QUARREL(USA)
b. 1966
PHALANX (USA)
b. 1944
DEBUTANTE KISS (USA)
b. 1957
BEAUKISS (USA)
gr. 1945