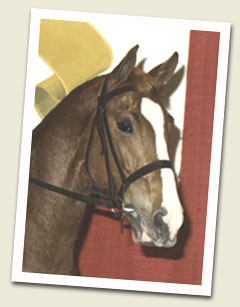 When I first bought my horse, Jodi Biber, from Barb Bowen, I did not know that it was going to be an adventure that would last 25 years. As it turned out, it would be a journey that would take me to the exhilarating peaks of showing, the tranquility of trail riding and the companionship that stems from a bond between a man and his horse.
None of this would have been possible without Barb's knowledge of horses, sincerity and caring. Therefore, I would strongly recommend Barb to anyone, amateur or professional, who is looking for an exceptional horse.
Dr. Peter Nelson , April 2003
. . . . . . . . . . . . . . . . . . . . . . . . . . . . . . . . . . . . . . . . . . . . . . . . . . . . . . . .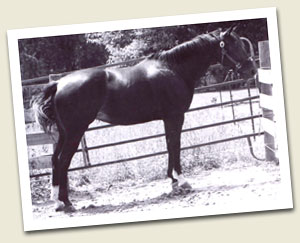 When I went looking for a "Thoroughbred 6 years ago, I never dreamed I would end up owning a Clydesdale thoroughbred cross. I had my doubts about the Clyde, but Barb Bowen said she could show me 2 horses that might interest me. When Tyme walked out of the barn I knew immediately that was going to be my horse, and if I were to win the lottery the next day I was taking the 2nd horse as well. When I purchased Tyme, Barb and her family took the time to help me master the many skills of riding a young horse before I left to take Tyme to her new home.

Tyme is very athletic, competitive and very willing to please. She has competed successfully in the Ocala horse circuit as well as in local shows. Whenever I show her it never fails someone always asks, "Is that black horse for sale?" The answer is always a resounding "NO!" but I can tell you where to get a horse just like her.

Six years later it still fascinates me to watch the Bowen's work with their horses and to see their faces light up with pride when presenting one of their horses to a future client. Hard to believe 6 years ago I bought a wonderful horse, made lasting friendships, and gained a 2nd family.

Eileen Andrews, April 2003
. . . . . . . . . . . . . . . . . . . . . . . . . . . . . . Back to top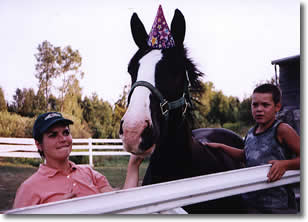 After returning to riding lessons after a six year hiatus, my husband and I decided to purchase a horse. I saw an ad and emailed the Bowen's regarding the first Ontario Breeder's Production Sale. I had carefully scrutinized the website and still had so many questions! What was the price range anticipated? Training level of the horses? And would it be possible to visit the horses before the sale. Patiently and professionally, Jodie and Barb replied to all of my queries. Two weeks before the sale I visited Orchard Park Stables. I was proud to reveal my short list of 11 horses that I was interested in! It seems funny to me now. Eleven horses!!
Barb had made a list of three for me to look at after just speaking with me; Jodie gave me her ideas after watching me ride. Archer topped both lists. He was then rising two years old, a beautiful big black gelding with loads of chrome. I knew as soon as I arrived at Orchard Park that day that I would buy one of their horses--but a two year old did not seem to fit my ideal of a loving patient mount.
So, Jodie, Chad and Kim proceeded to help me try each of my lucky eleven. I fell in love over and over again. I left the farm that day to mull over my options (and my bank account). Two days later I returned to revisit my options, but first conceded to give Archer a test ride. Unbelievable! He was everything I had dreamed of! I never rode another horse on the farm. I stayed that night until long after dark to learn every thing I could about this fellow. That was four days before the 2003 Ontario Breeder's Production Sale and I don't believe I slept a wink or thought of another thing until the auctioneer slammed his gavel!
Archer has been mine for almost a year now. He will be three in June. Often we take his age for granted. He is level, patient, athletic and willing to do anything asked of him. I am excited by his youth instead of scared by it--he will God willing be my trusted partner for decades! I have learned to trust the sage advice offered to me by Barb, Al, Jodie and Chad. They have been there for me in this last year to answer any question, assist with any concern that has come up! Not only have they been thoroughly competent professionals, they have become our dear friends.
Carolyn Wood, Ontario, March 2004
. . . . . . . . . . . . . . . . . . . . . . . .. . . . . . . . Back to top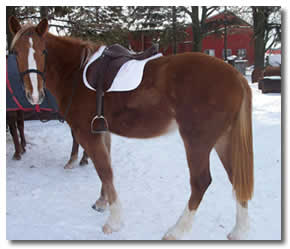 For years I have trained Arabians and Thoroughbreds. I always enjoyed the challenge of those breeds. After becoming a mom of three small girls and not getting out into the saddle as often as I'd like, I was looking for something with the same keen "let's go attitude" but perhaps a little more sense.
In 2003 I purchased my Irish Draught Sport Horse from Orchard Park Stables. Faith was just a weanling filly, big, beautiful and a wonderful temperment. Her sire Garry Owen of Suma also owned by Orchard Park is indeed a great looking Irish Draught Stallion. I would recommend him for breeding to any type of mare.
Faith is now coming two and I have started light riding with her. She was by far the easiest, most willing to learn horse I have ever trained. I have become a real fan of the Irish Draught and Irish Draught Sport Horse. If you are looking for a top quality horse, I suggest a drive to Orchard Park Stables. Barb and Jodie will be more than happy to show you some of their beautifully bred horses and I will guarantee you'll find what you're looking for!
A Happy Costumer
Kelly Herlick-Riehl, Ontario, March 2005
. . . . . . . . . . . . . . . . . . . . . . . .. . . . . . . . . Back to top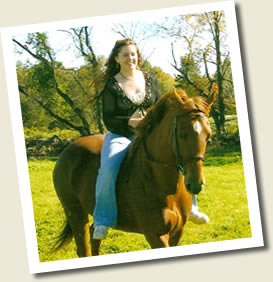 I've known Barb and her family since I was 8 years old. I am now 15, and am still amazed with her breeding farm. At 8, I had never ridden a youngster before, and Barb put me on my first one. Since then, my knowledge has grown, and because of Barb and her family, I know how to start them.
Two summers ago, my mom and I bought our first two year old from Barb. My sister and I spend our summers up at Orchard Park Stables, and we got the opportunity to learn how to start Samantha (Sam) and Pistol (my sisters horse). I would have never been able to do it without the help and support from Barb, Al, Jodie, Chad, and of course Callie. They have all become a big part of my life, and have truly inspired me. I don't believe that I would be where I am now without Barb, her family, and her horses.
September 2003, Sam and Pistol came to live in Connecticut with us for the rest of their lives. Sam learns so quickly, and is so eager to learn. She gets along with everyone on the farm. We go on trail rides whenever it's muddy out, and we always pass the same kids. They always come running up to say hello to the horses, and when they do, Sam's ears goes right up, and she begins licking their hands and faces.
Barb, Jim, and the Watson's horses have given me the courage to follow through with my dreams, and hopefully Samantha (The Belle of Glennevere) will be the one who take me there. She has become a very important piece of my life, and she brings light to my mom's eyes every time she sees her. Sam has truly taken our breath, and hearts away.
I've been working with and around these horses for 7 years now, and they are the only horses I know that really are sane, sound, and the most comfortable things in the world. I've seen them sold and become outstanding dressage horses, excellent jumpers, who could take you as far as you want to go, beautiful eventers, awesome carriage horses, and most of all, your best friend. They are willing to be whatever you want them to be or become.
Barb has been the best (besides my mom and dad) and she's always there to support us. Every time we visit, we learn so many new things. Thank you so much Barb, Al, Jodie, Chad, and Callie, for Sam and Pistol, and the great knowledge you've given us and continue to give us over the years.
With Love,
Amanda LaChance, Connecticut, March 2005
. . . . . . . . . . . . . . . . . . . . . . . .. . . . . . . . . . Back to top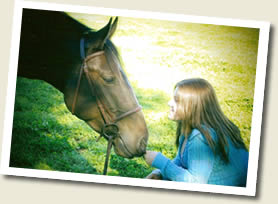 I met Barb when I was 8 years old. Over the past three summers, the residents of Orchard Park Stables have taken my sister and I in to be working students. I am now 15, and have learned a lot from Barb and her family. They have taught me many things I will never forget, and I love their horses. They are by far the nicest horses I have ever ridden, and are always trying to please their rider.
I have never had a horse of my own, but have been switched from horse to horse since I was 4. Two summers ago, I bought a horse from Barb and her family. Being 13 at the time, they taught me how to start him under saddle, and at the end of the summer, he came down here to Connecticut to live with us. Pistol is one of the best things that have ever happened to me. He stole my heart immediately. At 3 1/2 years old, he is quite the gentlemen, and he has some of the best manners at our barn, and loves his new home.
He is my best friend, and no matter what mood I'm in, when I see him he always brings a smile to my face. I always get the butterflies just thinking about him, and look forward to coming home from school (who doesn't!) and going to the barn to see his adorable face. He is a very quick learner, and tries his best. After giving him the winter entirely off for time to grow, Pistol seems happy to be learning more. Every person that I let sit on him always says the same thing "Where did you get such a comfortable horse" and I always reply "There's plenty more where he came from!"
The fact that Pistol is mine to keep, and he will always be there with me, and we will have a future together, is now kicking in and it is a great thing to realize. I am happy that he is the one that will be right there by my side, learning and gaining, and growing in size and experience with me. He will be with me for all his days, no matter what. Thank you Barb and her family for this amazing animal and friend you have blessed me with.
With love,
Darcy LaChance, Connecticut, March 2005
. . . . . . . . . . . . . . . . . . . . . . . .. . . . . . Back to top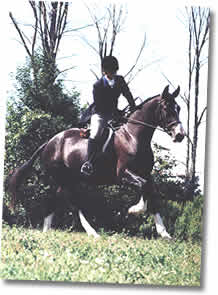 My Husband Stan bought Dennis for me at your sale last year as a hunt horse. My daughter Lesley Boylen was invited to be on the team representing Eglington Caleden Hunt Club in the National Hunter Trials. Denny was four years old when he accomplished the following:
On the winning team of the 2003 National Hunter Trials
1st in Hunter Pairs
1st in Open Working Hunter
1st in Team Class
Reserve Champion of the 2003 Eglington Hunter Trials
2003 Winner of the Horse of the Year at the Eglington Caleden Hunt Club
Hunted for a full season with Eglington Caleden Hunt Club in 2003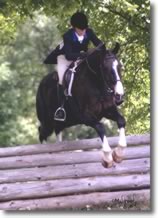 Dennis made a wonderful Hunt horse for me in 2003 and we are currently spring hunting and looking forward to the formal hunt season beginning in September. He is a treasure!!!
Ann Shapiro, Caleden, Ontario, May 2004
Note: Dennis was our cover horse for our 2004 catalogue
. . . . . . . . . . . . . . . . . . . . . . . .. . . . . . . . . . . . . . . . . . . . . . . . . . . . . . . .
Hello Horse Lovers,
Horse shopping? You must stop at Orchard Park Stables and meet Barb Bowen.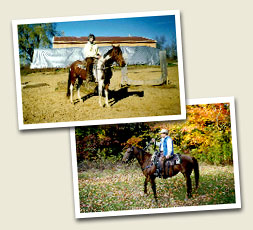 Barb's knowledge of horses is vast and intricate. (I believe she grew up on the back of a horse.) Her horses are well bred, broke and trained. We bought our horses from Barb and they are amazing. We use them for trail riding and they are not skittish and are always dependable. Even if we do not ride for weeks on end because of bad weather, we can throw a saddle on our horses and off they go as if they hadn't had a day off.
Barb has a very special gift of matching horses and riders according to ability and the type of riding you wish to do with the horse. A stop at Orchard Park Stables will probably mean you won't have to look any farther.
Happy trails!
Bill & Val Davis, April 2003
. . . . . . . . . . . . . . . . . . . . . . . . . . . . . . . .Back to top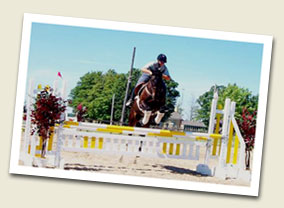 I have purchased horses from Orchard Park Stables in the past few years and have been very satisfied with my purchases. The horses are very athletic and easy to get along with. They are willing learners and would take you to higher levels in many different sports. I definitely would purchase another horse from Orchard Park Stables or recommend them to my customers anytime.
Shelly Price, Holiday Ranch Riding Stable Ltd, April 2004
. . . . . . . . . . . . . . . . . . . . . . . . . . . . . . . . . . . . . . . . . . . . . . . . . . . . . .
Dear Barb,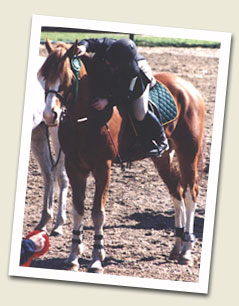 Cedric is settling in marvelously out here in California and is sweeter than I could imagine. He quickly became a barn favourite due to his amicable nature and love of sugar cubes.
Although I had never previously entered an event, I decided to take him to Ran Tap in late February at the Beginner Novice level. He was beautifully behaved and very calm - in fact, I suspect that he didn't notice we were showing rather than out for a pleasant Sunday ride. For both Cross Country and Stadium he was perfectly behaved. Our inexperience in Dressage was apparent, but I didn't go to win, just to have fun.
Cedric is absolutely wonderful and I'm so glad that you showed him to me! Thank you for raising him to be such a gentleman. I credit the occasional buck to his very young age, but he has yet to be malicious!
Much Love
Claire, California, April 2003
. . . . . . . . . . . . . . . . . . . . . . . . . . . . . . . . .Back to top
Dear Barb,
If you ever want a prospe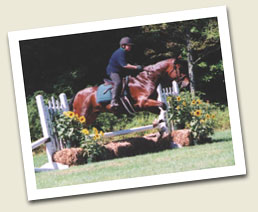 ctive buyer to talk to a happy Clyde TB X owner, be sure to give them my number. He is the best thing on this planet!! Absolutely the right match for me. He's fun, safe, talented, tries hard, no games or bad behavior, NONE -- He's an angel!
I am really writing to BRAG about Freddy. Today was his 5th birthday and we went to his second dressage show. We rode 2 training level tests, the first time for both. Had I not made a pilot error in the test, we would have had the high score for the entire show . as is was, we won both tests and came in reserve champion in the senior dressage division. He was WONDERFUL and looks like a million bucks. He is fit and was braided and looked as fancy as the German horses we were competing against!!!! I keep pinching myself, waiting to find something wrong with this horse, but after almost 2 years, he is a constant joy to me and a very important part of my life!!!
Love
Pat, Connecticut, April 2003
. . . . . . . . . . . . . . . . . . . . . . . . . . . . . . . . . . . . . . . . . . . . . . . . . . . . . . . . .
Dear Barbara,
Thank you so much for your letter - everybody LOVES the picture of big Mister Magoo. If he ever needs a retirement home, he can come and live peacefully with his son in Connecticut. Mr. Dupuis, who is the father at my little boarding barn, adores the Clydesdales and has a harness and cart, and now thinks he's going to teach Magoo too to drive...we'll see!!
It's been rainy here, so my baby had to stay confined for the first time for four days and we finally got out yesterday and BOY was he spunky! But still the nicest gentleman ever, trying not to dump his Mommy. Everybody loves him and he returns the affection generously, which is truly a first for me.
Love
Margret, Connecticut, April 2003
. . . . . . . . . . . . . . . . . . . . . . . . . . . . . Back to top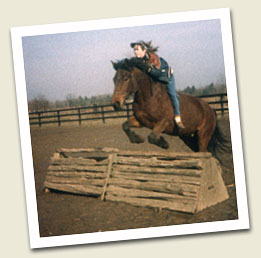 I started riding 20 years ago at Orchard Park Stables where I learned a very solid foundation in horsemanship. Through these years, I have bought many outstanding horses who have seen me through my beginner years right through to the show ring and I look forward to many more wonderful years on horses bred and raised at Orchard Park Stables.
This is one of my favorites from my earlier years. Hudson was everything and more than I could have ever wanted. I can't say enough about their disposition, ride-ability, and quality of the crossbred that I have had the pleasure of owning.
Andrea Ruddy, Ontario, April 2003
. . . . . . . . . . . . . . . . . . . . . . . . . . . . . . . . . . . . . . . . . . . . . . . . . . . . . . . . .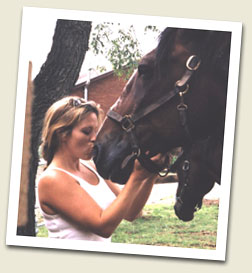 My Clyde X from Orchard Park Stables, acquired in March 2002 has quickly become a part of our 'family'. He has a wonderful disposition, is very eager to please and very reliable. He is very versatile and a dream to ride whether over fences or relaxing on a trail ride, everything a person could want in a horse.

He is my first Clyde X and I can guarantee he will not be my last. I am a fan for LIFE! Thank you Orchard Park Stables.

H. Latto, Ontario, April 2003

. . . . . . . . . . . . . . . . . . . . . . . . . . . . . . Back to top
Barb,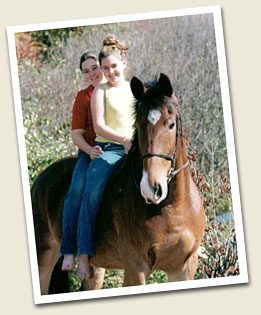 Some years ago, I had a horrible accident with a horse. I damaged my knee, back, and sustained a horrible concussion, that has left me with a slight balance problem. Being a mother of 3, I vowed never to ride again. Some time later, a mutual friend of ours asked me to take a ride to your farm with her, to find a horse to replace her aged show horse. She found one. At 3 years old, I had my trepidation's when she asked me to help her exercise her knew baby. Never could I imagine that my fierce love of the sport would come back with that one ride!!!!! He was awesome!!! Without a doubt the most comfortable horse I've ever ridden. Such a good boy, ... trying with all his heart to do his job. I thank you for giving me my confidence back.

Being the barn manager of a small show barn, I have seen many horses come and go. Your horses are by far the sanest, the healthiest and the soundest horses I have ever seen. My favorite thing to say to people when they ask me about the "Canadians" in our barn, is to pick a sex and a color, because their consistent temperament is unquestionable.
Kathy, Connecticut, April 2003
. . . . . . . . . . . . . . . . . . . . . . . . . . . . . . . Back to top
In 1988 a friend of mine purchased a young mare from Orchard Park Stables. Due to career commitments she was not able to ride regularly. I was lucky enough to get the ride and show this talented crossbred for two years. "Kate" as we called her, was an awesome horse. She was kind, dependable and a natural jumper.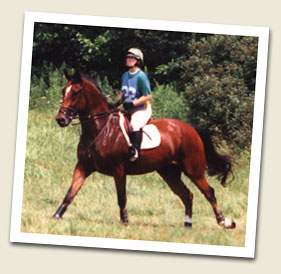 In 1996 my friend called to let me know that Kate was for sale. Without hesitation I arranged to buy her and proudly I brought her home. She has since hunted with the London Hunt, shown hunter at the Trillium level, shown jumper, has had a gorgeous filly and become a mainstay of my lesson program.
Needless to say, I am completely sold on the crossbreds. I have since owned and showed five more. My boarders and clients have also discovered the versatility and sensibility coupled with athletic ability of the crossbred. Currently we have ten crossbreds in our barn, ranging from yearlings to a horse competing at 3'6".
These horses are a pleasure to own and they love to work. Throughout the years, I have bought and had clients buy from barb at Orchard Park, Jim at Shady Maple and Bev at Watson Farms and will continue to do so. I would like to congratulate these three on their vision and the contribution to the quality of the crossbreds from Ontario. These three breeders have sold to happy customers throughout Canada and the United States. I think this sale is a fantastic idea and I look forward to seeing the crossbred steal the hearts of new owners.
Sincerely,
Alison Warwick -- Warwick Equestrian Development Inc, London Ontario, April 2003
. . . . . . . . . . . . . . . . . . . . . . . . . . . . .. . . . . . . . . . . . . . . . . . . . . . . . . . . .
A last minute decision to enter a 3'9" class really sold me on the value of crossbreds. Shortly before the class began, the show organizers approached us, looking for more entries. I knew the horse I had been showing wasn't ready for it, but I was offered a ride on Alison Warwick's Clyde Cross--Kate. I had limited experience showing at 3'9" and had never jumped a fence on the mare before that day. Kate was easy to ride and after a few warm up fences, I felt confident enough to enter the class. We finished third!
Robin Thorel, Dorchester Ontario, April 2003
. . . . . . . . . . . . . . . . . . . . . . . . . . . . . . . Back to top
When I was seven years old I moved from a town-house to our new house on the fifth concession in Waterdown, back when all you could see for miles was farm land. Needless to say there was not much for a young child to do - no other children, playgrounds or corner stores to walk to. I decided country living was NOT for me ... until a little girl strolled by me on an adorable little pony! The little girl turned out to be Barb's daughter Jodie who remains my closest friend.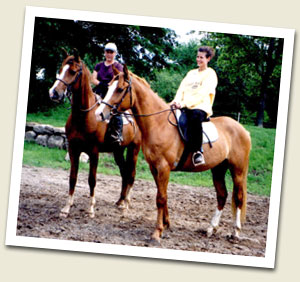 I began riding at Orchard Park Stables and spent every waking minute there I could. I rode whatever and whenever I could until the glorious day my grandfather went to see Barb about buying a horse for my 13th birthday. The horse was a handsome quarter horse gelding named "Doc" and he was the love of my life. I discovered Doc's barrel racing talent and the whole gang had a blast hitting all the fall fairs.

Through the years as my riding developed and my interests changed Barb has always found me a talented horse to suit my needs. Barb seems to have a knack for finding the right horse for each individual. The horses Barb and her family produce are always sensible, sound, well mannered and most of all happy people loving animals. Each horse is given a solid foundation and I found these basics never leave them.

Whether you are looking for a sensible companion to trail ride or field hunt or an athlete that will go the distance in the ring I strongly recommend you go see Barb.

Kim DeRosa, A loyal friend and happy customer, Ontario, April 2003
. . . . . . . . . . . . . . . . . . . . . . . . . . . . . . Back to top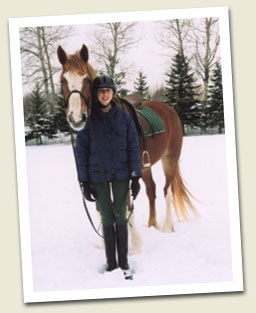 Last summer, a good friend took us to meet Barb Bowen at Orchard Park, and we quickly found Ruby (Rubik's Cube), a young Clyde TB cross. Right from the start, Ruby impressed us so much with her sweet nature and good looks. Since then, she's proven herself to be honest, calm, and 100% willing, whether she's training in a ring, or hacking down the road. She's a wonderful horse, and a real tribute to Barb's ability as a breeder and trainer. On top of that - Barb is super to deal with, friendly, kind, and very fair. We couldn't be happier with Ruby, and we know that there are a lot of other great horses here, ready for a new home. If you are looking for that "special" horse, then you owe it to yourself to check them out.
Barb & Vicki Meuleman, Ontario, August 2003
. . . . . . . . . . . . . . . . . . . . . . . . . . . . Back to top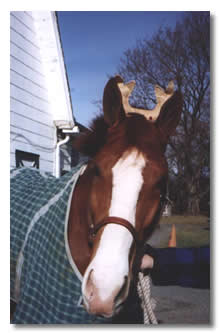 My horse Sneakers (Sneak Preview) took my breath away when I first saw him. He is such a classy "looker' and mover. Yet he has many qualities beyond eye appeal that make him very, very special. He is sensible and cautious - he has a good brain. Even as a beginning adult rider I am able to take him with confidence in hunter paces and other events off the property. He moves willingly yet is not a runaway (but he sure does have a good time playing during morning turnout!!) He is a gentleman to ride and pure joy to be around - so very sweet and mannered at all times. How could I be so lucky!!!
Judy Newhouse, New Jersey
April 2004
.. . . . . . . . . . . . . . . . . . . . . . . . . . . . . Back to top
When we approached Barb Bowen at Orchard Park Stables with our horse-hunting wish list, we already knew that ours was a tall order to fill. We were looking for a horse that had the ability to become a very capable hunter/jumper for an experienced adult, yet be safe and sane enough for our 9-year-old daughter to advance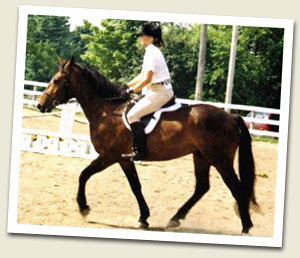 from her beginner level on, too. Barb sat down with us and spent a great deal of time finding out exactly what we were looking for. No detail was too small, including that we'd prefer a gelding, dark bay if possible. But the #1 item on our list was temperament. After looking at all of the amazing youngsters on her property, one particular young gelding stuck in our heads. When we mentioned that we were really taken with "General", Barb smiled and showed us the list of names she'd come up with of horses she felt might be a good match for us. And General's name was on the top.
The rest, as they say, is history…
"General Snickers" is now five, and has lived up to all of our expectations, and then some! He is an amazingly calm and affectionate boy, with wonderful intelligence and an amazing work ethic. He approaches new challenges with enthusiasm and heart, and then, remarkably, turns into an old schoolmaster whenever our daughter is on board. As a draft/TB cross, he caught the best traits of both breeds - tall, strong, smart and sensible, calm without being complacent, and, as an added bonus, he's not at all "draft-y"-looking!
Thanks, Barb. We love him to bits...
Patricia, Mark & Lindsay Carter, Toronto Ontario, May 2004
. . . . . . . . . . . . . . . . . . . . . . . . . . . . . . Back to top
I LOVE MY ORCHARD PARK STABLE HORSE!!!!

I bought my mare as a coming three year old. Barb Bowen chose my mare for me from her herd as she believed that we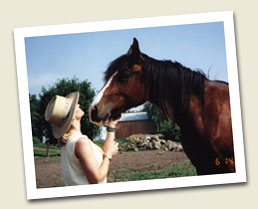 would be a good match. I couldn't have done a better job! She knows her horses and is a great judge of people and their needs, she is truly a horse matchmaker and I couldn't be happier. Frosty is my first green horse and she has been nothing short of amazing. Frosty is intelligent, kind and very willing and this I firmly believe to be a direct result of Orchard Park's conscientious breeding and training program. I know many other horses from Barb's stables and they all exhibit the same desirable qualities that Frosty possesses. She is now a coming four year old, and I am looking forward to our first year of showing , and a long wonderful partnership. My next horse will definitely be an Orchard Park horse, and I would highly recommend them to anyone looking for a mount regardless of discipline. I made a great choice, and every ride on my mare confirms it!

Sue O'Donnell, Ontario, September 2003 Back to top