THE STORY OF THE BUREAU COUNTY KID
The Bureau County Kid, fondly known as BamBam to all those close to him, was born on August 1, 1989 right here at Orchard Park Stables. First, his parents story.
His Dam was bought by my mother as a 3 yr old from Fransis Tone and was originally bred by Roger Rogerson. She was sired by a well bred Clydesdale stallion, and out of an imported French Coach mare both also owned by Roger.
We had already broke, trained and sold many siblings to this mare and one sibling in particular who was named Repo, was sold down to Ron Taverick in Connecticut and grew to be over 18.1 hands high.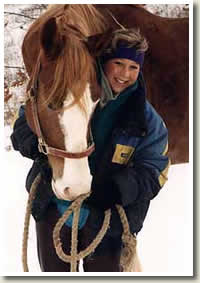 My mother had become very fond of these crossbreds and when Fransis called her about this full sibling to Repo explaining that she had a hernia and didn't want to spend the money to get the operation done, my mom quickly took advantage of the opportunity and we owned her for many years until retiring her as a broodmare and is now with a good friend of ours. Now that we had this beautiful Repo look alike, we called her Little Repo as she finished growing at only 16.1 hands.
A good friend of my mother's, Sandy Blackall, has a wonderful grandson of Northern Dancer, show name Limited Finances, known as Bert, that she has always fancied and bred Repo to him twice in a row producing first Rebert, and second BamBam.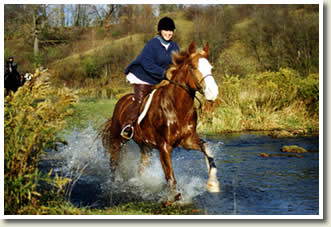 Rebert went on to sire many great horses that are now all over North America. Rebert never did much showing but was very much an influence to many mares in our operation today. Unfortunately we lost Rebert in 1997 to a broken leg. This was a great tragedy and will always be missed by all that were lucky enough to have been touched by him.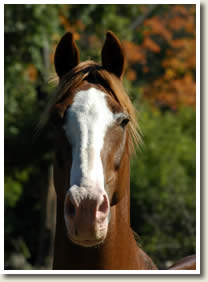 As Rebert was the first born, my mother gave him to my brother Chad as a gift, and BamBam being the second offspring was my gift. (These two were the only Colts Little Repo ever produced as she had seven fillies after that). This gift has become one of the best things that has ever happened to me!
BamBam was born while I was competing two horses in DesMoines, Iowa, where my Aunt and two cousins lived and rode competitively. I had been down there for the month of July and was on my way home when our truck "died", literally, on the Interstate. We were stuck there for five days and the citizens of Bureau County, Illinois were so good to us, putting our horses up at the local fairgrounds, and opening their homes to us.

We got the phone call on August 1, 1989 that we had a new addition. I had already picked out the name BamBam for a boy. We told the wonderful citizens of Bureau County that we would name BamBam after them and so it was, The Bureau County Kid.
Now in 2004, 15 years later, I look back and realize how far we have come, the fun we have had, and can recognize the many accomplishments we have made, large and small, including a second place finish in the $25,000 Marshall & Sterling Jumper Classic in Ocala, Florida, They are ours and I cherish all the times we have had and look forward to many more. I have owned many Ponies and horses, but to have a young horse and to grow with that horse, building that relationship so full of depth, is an experience I hope every horse lover will have, as it is so precious.
With BamBam, one the best things about owning him is seeing the stamp he puts on his offspring. It is like seeing BamBam all over again. The prepotency that has made Northern Dancer one of the leading sires of all time follows through in the blood of BamBam and his get. I love everything about them... and I sure love my Clyde Crosses!
Jodie Gula