Thoroughbred x Clyde
3 year old Bay Mare
16.0+ hh
D.O.B. June 12, 2012
This kind mare is a look-a-like to her Great Grandfather Seattle Slew, having all of the thoroughbred looks with the warmblood temperament and ability. Not quite 3 years old, this beauty has a lot of growing and maturing to do.
Eager to please, EZ gives a straight forward ride every time and will make a wonderful partner! We think she will make a great hunter yet excel in any discipline chosen for her.
Sire: Life Goes On (TB Stallion known as Vinny)
Dam: Kerrigan (Warmblood Mare by Wellington II - Hanoverian Stallion)
All horses will be available for previewing and trying by appointment between Friday May 22nd and Wednesday May 27th. Phone Barb Bowen at (905) 659-1704 or email Jodie Bowen at obps@execulink.com to schedule your appointment.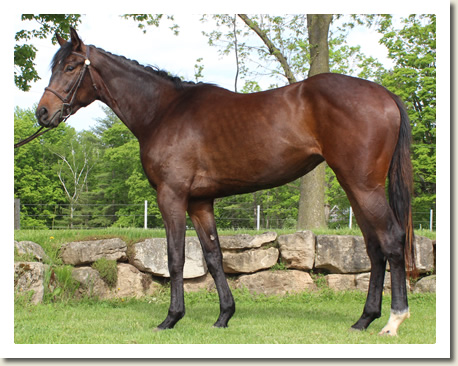 Breeder: Hawksview Farm, Affiliate of Orchard Park Stables
Join us for some refreshments and fun at our Friday evening gala. The breeders will take this opportunity to showcase their horses and give demonstrations of these remarkable athletes. Friday May 29th at 6:30pm here at Orchard Park Stables. Get Directions here.

We hope to see you there!