Clyde x Hackney
4 year old Bay Gelding
16.2+ hh

Millar is a total beauty and has just been started under saddle. He is still suspicious of his rider but is improving with each ride. He is super shy in new surroundings and with new people so he will need some time to adjust with any change. He has a kind eye and wants to be your best friend. He has come leaps and bounds in the last couple of weeks as his trust for us increases, so he needs someone that will love him and take their time with him.
In the end, it will pay off because the sky is the limit for this nice horse! We see this type often. Give him another couple of months and you won't believe he is the same horse! We adore him and we think you will too!
Millar has enormous movement and would be incredible in the dressage ring. He has the ability to be successful as an eventer or a jumper as well. And with more time, may even make someone a great fox hunting mount! He will need someone that has experience with youngsters to ensure his training stays on track. A must see.
Sire: Shady Maple's Stylemastersupreme (Hackney)
Dam: Shady Maple Clyde Mare
All horses will be available for previewing and trying by appointment between Friday May 23rd and Wednesday May 28th. Phone Barb Bowen at (905) 659-1704 or email Jodie Bowen at obps@execulink.com to schedule your appointment.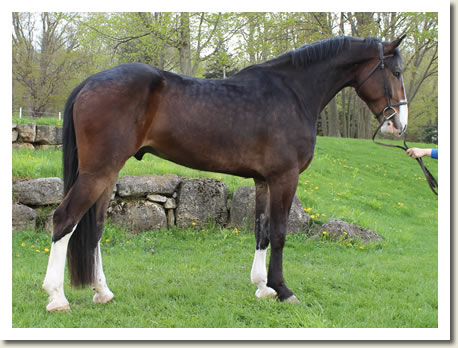 Breeder: Shady Maple Farms
Join us for some refreshments and fun at our Friday evening gala. The breeders will take this opportunity to showcase their horses and give demonstrations of these remarkable athletes. Friday May 30th at 6:30pm here at Orchard Park Stables. Get Directions here.

We hope to see you there!

Footnote: Matching each horse to the right rider is our first priority. We would be happy to continue Millar's training after the sale for anyone that wants to be sure he is ready to take home! See our training fees here.