Thoroughbred x Clyde
3 year old Grey Roan Mare
Size 16.3 hh
D.O.B. May 1, 2010
Tasha has quickly become a barn favorite here at Orchard Park Stables! She is so wonderful in so many ways that itís hard not to fall in love with her. She is above average in temperament, a quick learner, super quiet on the ground as well as under saddle, bold, smooth, and has a laid back personality. These are only a few of the qualities she has!
She is following in her brotherís footsteps Ö Pontiac (2012 Sale), Rocky (2011 Sale) and Crosby (2009 Sale) which says a lot as they were all exceptional horses! Anyone can ride this uniquely colored mare. Her big ears come with a bigger heart!!!
Sire: Tuffy (TB by Bold Executive)
Dam: Shady Maple Spreckles (Clyde)
Viewing Prior to Sale: Orchard Park Stables,
Barb Bowen (905) 659-1704 or e-mail
Jodie Bowen at obps@execulink.com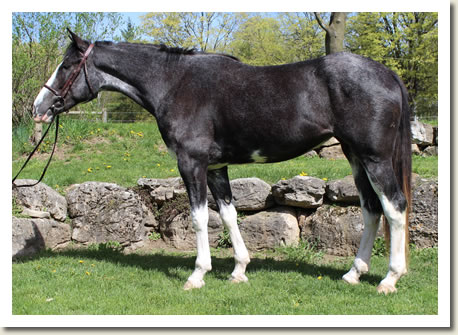 Breeder: Shady Maple Farms