Thoroughbred X Clyde
3 year old Dark Grey Mare
16.1+ hh
DOB: June 29, 2009

See YouTube video below!
Who needs to go on vacation when you have Paradise in your barn? She is one of our quietest considering she is the baby of the sale and is another who had about the least amount of riding. She is immature as of yet physically, but will grow into a wonderful horse like her big sister Guinevere (2009 Sale). She has a great work ethic once you have her focused on her task. She's comfortable to ride, extremely quiet and simple as well as athletic. Paradise was a naturally talented jumper in her free jumping. She has the ability to do whatever you will want and she'll do it with grace and ease! A sweet temperament makes her the all-around horse that will have people asking about her constantly. Any bets as to her color in 2 years?
Sire: Key Exec (TB) AKA Tuffy
Dam: Shady Maple Kate (Clyde)
Viewing Prior to Sale: Orchard Park Stables,
Barb Bowen (905) 659-1704 or e-mail
Jodie Bowen at obps@execulink.com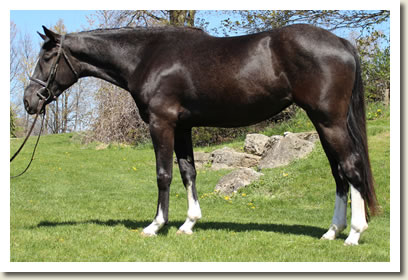 Breeder: Shady Maple Farms